THINGS TO DO IN DA NANG
Viet Nam is a beautiful country with a long coastline next to the Eastern Sea, it's one of the reasons tourism in Vietnam develops. The shiny golden sand beaches and stunning mountains have attracted millions of tourists each year. Da Nang is one of the most famous attractions to visit, located in the South Central of Vietnam. The city is within 100km close to several UNESCO World Heritage Sites, including the Imperial City of Hue, the Old Town of Hoi An, and the My Son ruins so it's a very ideal destination!
Flights to Da Nang are around $ 300 – $ 500 in general, flights from Ho Chi Minh city to Da Nang are from $30 -$60, flights from Ha Noi city to Da Nang are around $ 40 -$ 70. The best time to visit is probably between May to August when the weather is nice and sunny and you also can find a lot of cheap flights from Sai Gon to Da Nang that period. See more details of Travel with cryptocurrency on Travelaki.com
Transportation
Da Nang airport is inside of the city and only 10 mins away from the center. Since Tourism in Da Nang is very developed so you will have many easy options to choose such as Taxi, Bus, and Cyclo. But remember to bargain the price for Cycle before taking it, around 50.000 vnd/ hour (~ $2)
Top Things to do in Da Nang
Da Nang is a worth-living city, It has been rapidly developing in the economy so it's very modern and yet there are so many fantastic natural attractions, and some famous architectures you can walk around and see such as : Dragon Bridge, Han Riv
er, Cham Museum, Da Nang Cathedral..etc.  A lively city that lies next to tranquil beaches is just simply perfection.
After a long day experiencing beautiful places, you can sit down and try out some specialties of Da Nang like Nem Nui, Banh Xeo, Quang Noodles, Banh bot loc, Fish Balls Noodle Soup and so on.
1. My Khe Beach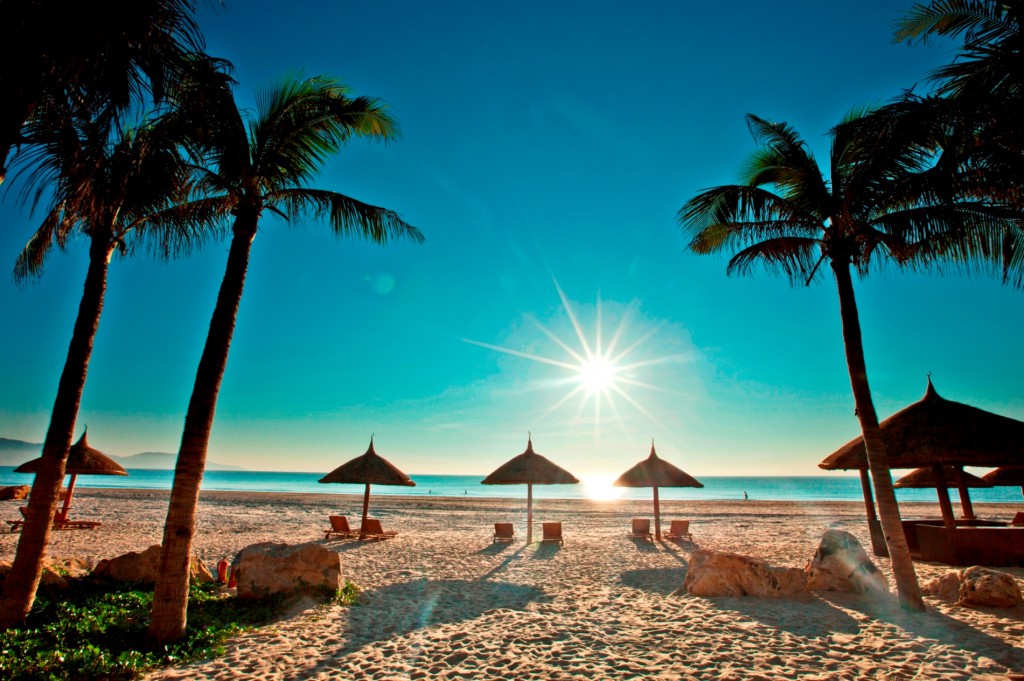 My Khe Da Nang is a must-visit spot, especially in the sunny seasons. It was selected as one of the six most attractive beaches on the planet by Forbes. It's easy to get access to because it's only 5km away from the center and it's open for everyone. Despite being a public beach, it is not polluted and dirty. My Khe Beach is famous for golden smooth sandy shore and beautiful clear blue water, the climate, and the waves are suitable for many activities such as Fishing, Snorkeling, Diving, Windsurfing or simply just Sunbathing on the nice soft sand under the shade of coconut trees. In the evening, the scenery is just stunning with glorious sunset painting the beach orange-red. What a view to see!
There are many restaurants and food stores across the street, you should try out fresh, tasty seafood dishes here. There are also various of hotel options, from the cheap ones inside many alleys to the luxurious/ international standard resorts by the sea
2. Marble Mountain
Marble Mountain Da Nang ( or Ngũ Hành Sơn) is a cluster of hills located in Ngu Hanh Son District. The Five Hills are made from limestone and marble and they are named after 5 elements: Kim (metal), Thuy (Water), Moc (Wood), Hoa (fire), and Tho (earth).
The attraction is famous for many Buddhist sanctuaries, temples, sacred places to visit. Many locals believe that if you worship at some certain places you will get the fortune. Some most visited pagodas Linh Ung Pagoda, Tam Tai, Tam Ton..
Adding to that, the tunnels and the caves are things you must visit. Some of them have been here since the 17th century and were a strategy spot during the war with the US, many mysterious secrets are hidden inside the caves.
There are 2 standout caves worth-visiting you should not miss out: the Huyen Khong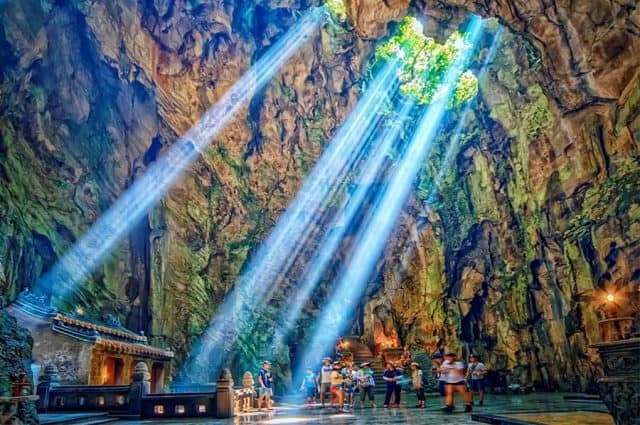 Cave, laying on the top of the highest peak of the Ngu Hanh Son range, with a cooling atmosphere and heavenly lights.
The Am Phu cave ( Hell cave ) , with dark, humid, spooky atmosphere and Hell Punishments painting to warn people about Karma.
=> Check out more amazing Sanctuaries, Temples and sacred places to visit in Ha Noi
3. Son Tra Monkey Mountain
Son Tra Peninsula in Da Nang is also known as Monkey Mountain because it's home to many primates including Monkey. Not only does it have the diverse wildlife but also there's a lot of breathtaking scenery with paranomic view, tourists need to travel up the mountains for some certain beautiful sightseeing spots such as Linh Ung Padoga with a 67 meters tall Lady Buddha-Goddess of Mercy blessing the village; going up further for the 1000 years old -Giant Banya tree and to the Ban Co peak where the Confucius statue playing chess is placed. It is also home to many beautiful untouched beaches like Bai Nam,Bai But, Bai Bac, Da Den and the marine life are just fantastic. It's ideal for diving and snorkeling in the summer and spring because the sea is calm and warm, plenty of fish around colorful coral ranges and the water is crystal clear.
4. Ba Na Hill
Ba Na Hills in Da Nang is one of the most famous attractions in Viet Nam. If you travel to Da Nang for 2 days 1 night, Ba Na is a place to spend a day you can't skip! It is 40 km away from the center and at the height 1489 m above sea level.
Having founded in 1919 by the French colonist, Ba Na Hills were a vacation destination for the French so the architectures were built in a vintage royal Europe style,it looks like a small old western town in the medieval era. The tourists were attracted many stunning views, ideal for sightseeing and photography
The Golden Bridge( the Hand God Bridge) just built in 2018 but it already has thousands of visitors from all over the world because of its unique structure and the charming view from the Bridge.
Walk around for photos of the colorful picturesque flower garden in Le Jardin D'Amour Flower Garden , try out some
delicious grape wine from oak wood wine tanks in Debay Wine Cellar or have your photo taken with famous Politicians, Celebrities from all over the world in the Wax Museum!
To get to Ba Na hills , you need to use Ba Na Cable Car which cost around 700k- 750k ( $30 ~ $33) / adult/round, and 550k -650k( $23~$ 26)/ kid/round. It's not just a means of transportation, but it also brings you great experiences, going through the clouds, and tourists can get to see the whole spectacular view of Ba Na hills.
5. Hoi An
If you plan to travel around Da nang in 2 days 1 night, Hoi An will be the best option to include. Hoi An is only 24km away from Da Nang, it takes around  45-90 mins to get there depending on your transport. The taxi price would be around 300k ~ 400k ( $13 ~$ 20).
Hoi An is a well-preserved, beautiful ancient town dating back to the 17th -18th century. The town will bring you mixed feelings since it was a combination of Chinese, Japanese, and European influences, every house and structure are kept unchanged until now. The road is decorated with colorful lanterns and if you come on February 16th, you will get to join the festival of releasing the lanterns and the flower garlands onto the river wishing for luck and happiness. There are also a lot of things to do and see in Hoi An such as: Touring Hoi An's Old quarter, Boat riding, Visiting Tan Ky House and Having your fancy suit made at cheap prices!
Hoi An is a place not to be missed. Let's check out flights from Ho Chi Minh to Da Nang Hoi An and book flights with bitcoin at Travelaki.com