TOP 15 EXPERIENCES IN SEOUL
When we talk about Asia, Korea is always one of the countries we name out first, its tourism getting more and more famous internationally. Especially Seoul, the capital city of Korea, is among the most important financial cities in Asia. The contrast inside the city would be something intriguing for the tourists, you can easily see it when you tour around the city, the serenity & rusticity of ancient palaces, temples, wooden houses intertwining with modern skyscrapers, sparkling commercial towels, and developed transportation systems.
Flights from Viet Nam to Seoul are around $ 100 – $ 300 and Flights from Seoul to Vietnam are also between $ 200 – $ 300. The best time to get the cheapest flights to Seoul is in the summer June, July. Incheon Airport is among the busiest airports in the world, so it's very easy to find flight schedules to Seoul. Moreover, you can book flights with bitcoin at Travelaki.com
Transportation in Seoul
The Incheon Aiport Seoul is 52km away from the center of Seoul so there are several options of transportation:
Bus: It's around 10.000 won – 15.000 won ( ~ $10 – $15 ) depending on the bus standard.
Taxi : From 55.000 won – 75.000 won  ( ~ $50 – $ 60)
Airport Railroad Express:
-Fast Express 14.800 won (~ $13), 43 mins to the center
– Standard Express: 4.250 won ( ~ $4), more than an hour to the center
Inside the city, people usually make a transportation card T-Money to use the bus and subway, it's more cheaper and convenient. You can buy it at the airport, stations or any convenient stores (7-Eleven, C2U, GS25..)
Traveling in Seoul Korea
Seoul is a dynamic city that inspires many people to come here or whoever had been here would want to come back. From magnificent architectures to bustling lifestyle, mouth-watering food dishes to ideal shopping spots. Above all, the city provides a highspeed internet connection even in just a small coffee shop!
Let's check out the list of things to do in Seoul!
1. Go back in time at Gyeongbokgung Palace
Gyeongbokgung Palace Seoul Korea, located north of Gwanghwamun Square, its history dating back to the Joseon Dynasty. You will be overwhelmed by the ancient architectures and the mighty scene of Guard Changing ceremony takes place at the top of every hour from 11:00 to 15:00.
Opening hours: 09:00 – 18:00 (March to October); 09:00 – 17:00 (November to February). Close on Tuesday
Ticket price: 3,000 won / adult (about $3), children 1,500 won.
2. Explore the Bukchon Hanok Village
Bukchon Hanok Village Seoul Korea is an old village located close to Gyeongbokgung Palace. It's a well-preserved 600 years old village, tourists will be attracted by many alleys after alleys and traditional hanok houses.
You can rent a traditional dress Hanbok at Hanbok Costume Rental at Bukchon-ro 12 gil with the price 7,000 won/ person.
3. Visit the ancient Changdeokgung Palace
Changdeokgung Palace Seoul Korea is the second oldest Palace after Gyeongbokgung Palace, it's located to the east of Gyeongbokgung. It was built to serve generations of royal families, and the mysterious beauty of the palace blending with the beautiful nature surrounding had added it to added to the UNESCO World Heritage List in 1997. There's a spot inside Changdeokgung Palace you absolutely must not miss, is the Huwon Secret Garden. You should book online in advance because tickets to this area are sold out quickly. Ticket price 8000 won (~ 160k)
4. Look down from N Seoul Tower 
N Seoul Tower or Namsan Tower Seoul Korean is a communication and observation tower located in Namsan Mountain in the middle of Seoul. Its height is 236 meters which made it the highest point in Seoul. There are some fun activities here that attract tourists like visiting the Love Locking Fence, Wishing Pond, Teddy Bear Museum and viewing the whole Seoul from a digital The Observatory which rotates every 48 minutes giving you a 360° view.
It costs 10,000 (~ $8) Won/adult  and 8,000 (~ $4) Won/kid for an observatory ticket.There are also shopping centers inside and restaurants.
5. Buy souvenirs at Insadong
Insadong Seoul Korea is at a walkable distance from Gyeongbokgung Palace, It's a lively neighborhood in the heart of Seoul with various souvenir shops, folk crafts, and traditional style restaurants. Many locals tourists come here to eat good food in the Joseon Dynasty atmosphere.
6. Water activities on Han River
It's not rare but you don't often find a place with many sports activities on a river inside a big modern city. It's nice to walk along the river or have a picnic with family and friends there enjoying the view. But if you're looking for a more fun experience, you could try or take a course in Water Ski, Stand up paddleboarding, Windsurfing, Water Flyboarding… or Fancy Cruise and Yacht in the evening.
=> Also check out beaches in Malibu Los Angeles 
7.Tour around the iconic Dongdaemun Design Plaza
You will have an astonishing experience coming to visit Dongdaemun Design Plaza Seoul Korea, It is the symbolic landmark of the Korean design industry, It's among the most suggested destinations and was being tagged the most on Instagram 2015. Not only does the design outside look so unique and fascinating but the inside structures are all pieces of modern art.
8. Get lost in the Lotte World
You don't need to go all the way to England to visit the Disney magical world, you can just book a flight from Ho Chi Minh to Seoul, then come to Lotte World Seoul Korea to visit the smaller version of Disney palace. it will bring you the same fun experiences!
9. Buy everything in Namdaemun Market
Namdaemun Market Seoul is the oldest and largest market in Korea dating back to 1414. It's very busy and lively marketing where you can find many types of goods. it's open almost all day until 4 am and keep in mind that some stores might be closed on Sunday.
10. Shop for cosmetics at Myeondong 
Myeondong Seoul Korea is a colorful, bustling heaven of shopping. It has more than a million visitors each day. It has many famous brand authentic stores like H & M, Zara, Mango, Chanel.. and on top of all, the famous cosmetic stores The Face Shop, Etude House, Holika, Tony Moly..etc and many other nice fashion stores with cheap prices. It's a must-visit place for sisters!
11. Take a stroll in Deoksugung Doldam
Deoksugung Doldam Seoul Korea is a very beautiful road to visit. It follows the rock wall which surrounds the Deoksu Palace and the tree lines on both sides of the road bring the cooling shade to the walkers. It's most charming and picturesque in the Autumn when all of the leaves turn yellow and red. But there's a rumor if the two hold hand walking on this road, they will break up shortly. Are you bold enough to check it out?
12. Try out amazing Street food
If you love Korean food, you can't miss out on trying various dishes of traditional street food. There are a lot of Streets of food in every corner of Soul where you can find Seoul specialties like Mayak gimbap, Bindaetteok – mung bean pancake, Jeon, Budae Jjigae (Korean Army Stew), naengmyun (COLD NOODLES) and so on.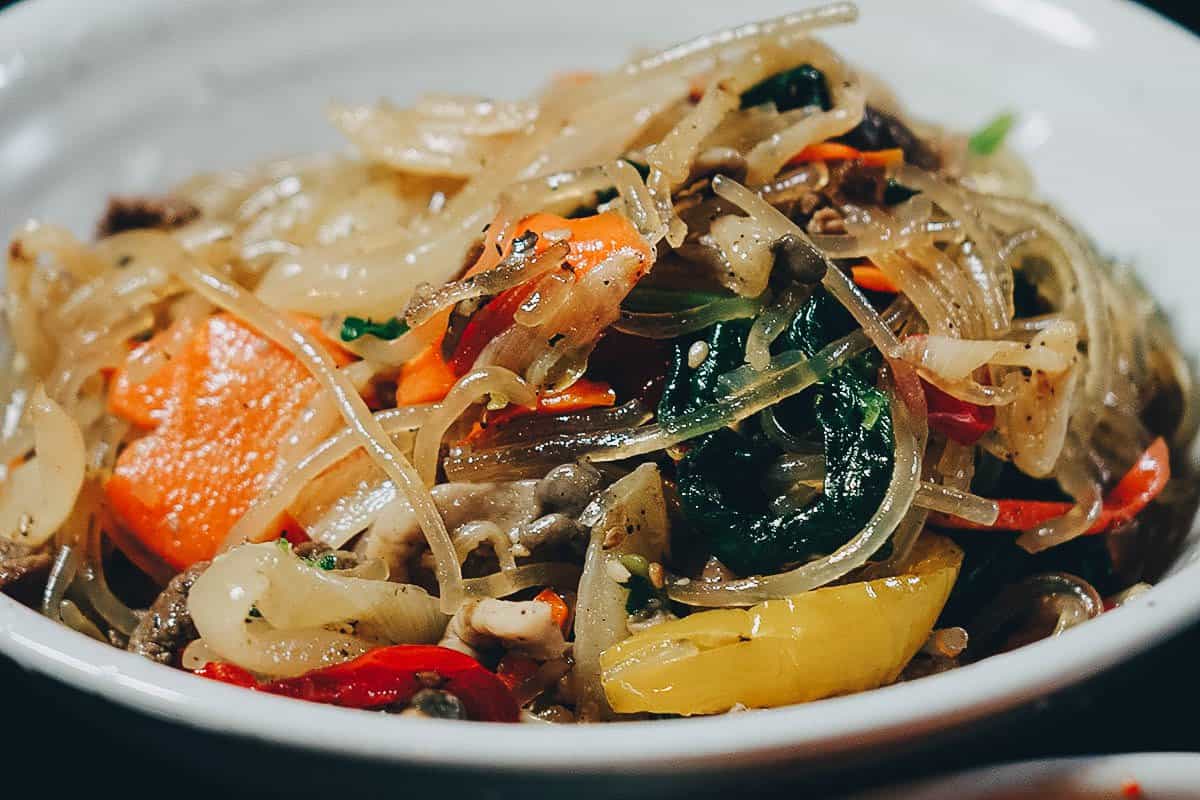 The graciousness and hospitality of the Korean people are unmatched by any in our travels. Seoul is a beautiful city filled with rich history, lovely architecture, charming neighborhoods,delightful restaurants and extremely delicious food.                                                                                                                                                              Churchmic – Michigan
13. Hiking to the top at Bukhansan National Park
Bukhansan National Park Seoul Korea is located in the North of Seoul city, if you are looking for an option for a day trip, Bukhansan is the best one not to miss out. The hiking trail is not too rough, it's for everyone to hike, the highest part of the mountain and is 840 m (or 2700 ft) above sea level, depending on where you start, it could take up to 2.5 hours to reach the top. Don't forget your hat and water before starting the adventure into the beautiful charming nature.
=> Check out more hiking trails to visit in Sydney
14. Enjoy the stunning nature at Seoraksan National Park

Seoraksan National Park Korea is 3 hours away from Seoul and it's a destination you can't miss during the Autumn, It is famous for its views, mountains after mountains into the valleys, lovely streams and vibrant flora and fauna. Sometimes, you can even catch a glimpse of a deer passing by. Aside from famous destinations like Jeju, Nami, Everland, Seoraksan is one of the best mountain sights to pay a visit when you travel to Korea.
See more details about cheap flights from Hanoi to Seoul at travelaki.com
15. " Train to Busan "
Busan is the 2nd biggest city in South Korea and is not too far from Seoul. It's home to many beautiful sceneries looking from immense mountains, shiny beaches, relaxing hot springs, delicious fresh seafood and chilling bars. If you don't know How to travel from Seoul to Busan, here are some small tips. The cheapest way to get to Busan is by the train Korail KTX (high speed), with the distance 400km between the 2 cities, it's the most convenient transportation and it takes around 2.5 hours to arrive. You can also drive a car or use Bus at a fairly cheap price but it's quite uncomfortable for a long journey. The airplane is also a faster way but very expensive. You can also check out flights to Busan from Ho Chi Minh city at Travelaki.com